Product
Filter
/
Filter
Reset Filter
Sort
Price
Grootte
DISPLAY
KEV01 PREMIUM BLAKE VINTAGE BRUIN MEKEVLAREN LEREN JAS
Shipping Class : DELIVERY : 15 EUR
Add To Cart

DHL thuisbezorging

Retourneer binnen 30 dagen

Laagste prijsgarantie

Kleding op maat
PRODUCT VAN PREMIUM KWALITEIT.
De jas is voorzien van Dupont Kevlar (borst / zijkanten) en CE LEVEL-2 bescherming en niet alleen dat, de hele jas heeft een ademend membraan dat de jas 100% waterdicht maakt met ademende functie.
Premium-serie betekent dat het product is uitgerust met TOP OF THE LINE-materialen en accessoires. Hier is een extra behandeld leer gebruikt wat het extra zacht maakt met maximaal comfort, het leer voelt suède aan. Zacht en comfortabel leer dat de jas maximaal comfort geeft met verhoogde mobiliteit. Ze hebben ook de standaard veranderd en premium stof in de jas gestopt voor een totaal zachter gevoel. Het product is ook uitgerust met LEVEL 2 CE-bescherming die zacht is en zich aanpast aan de lichaamsvorm.
- Zachter leer met een speciale behandeling
- NIVEAU 2 CE-bescherming EN1621-1: 2012 en EN1621-2: 2014
- Premium binnenvoering comfort Pro
Ritsen met matte afwerking
Waterdicht Reissa-membraan ademend
Graad 2 goedgekeurde CE-bescherming die kan worden aangebracht op jassen en broeken. Elleboog- en schouderkussens goedgekeurd volgens EN1621-1: 2012 en rugkussens en kniebeschermers volgens EN1621-2: 2014. Dit is een van de veiligste dingen die u kunt dragen.
De zachtheid van de bescherming maakt de pasvorm perfect en past zich aan de vormen van het lichaam aan zonder oncomfortabel te voelen.
Visco-elastische constructie
Vormt naar het lichaam
YKK ritssluiting aan de voorkant samen met knoopsluiting in de nek.
Buiten- en binnenzakken voor opslag.
Verwijderbare CE-goedgekeurde bescherming.
Extra versterkt op zichtbare delen.
Klittenbandverstelling op mouwen.
Binnenste lijnen
Gewatteerde schouders
Let op: dit product wordt ook als maatwerk aangeboden en kan daarom niet als reguliere maat besteld worden. De prijs is van toepassing op lichaamsomvang tot 3XL, voor grotere lichaamsomvang is er een meerprijs van 150 SEK per overschreden maat. De meerprijs wordt berekend door een beheerder van Sharkspeed na ontvangst van uw lichaamsafmetingen. De levertijd is tussen de 12 - 16 werkdagen, afhankelijk van de seizoensbelasting.
| | | |
| --- | --- | --- |
| Grootte | Borst / borst (cm) | Maag / Maag (cm) |
| XXS | 91-95 | 83-87 |
| XS | 95-99 | 87-91 |
| S | 99-103 | 91-95 |
| M. | 103-107 | 95-99 |
| L. | 107-111 | 99-103 |
| XL | 111-115 | 103-107 |
| 2XL | 115-119 | 107-111 |
| 3XL | 119-123 | 111-115 |
| 4XL | 123-127 | 115-119 |
| 5XL | 127-131 | 119-123 |
| 6XL | 131-135 | 123-127 |
| 7XL | 135-139 | 127-131 |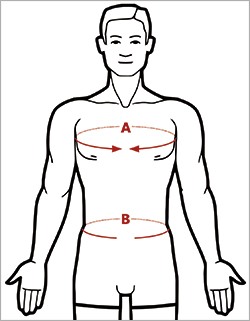 BUY MATCHING PRODUCTS - GET THE FULL LOOK